Want to see a product first before you buy it?
Let a Kollies Parts Dealer in your area order the product.
If I like product, you buy it at your dealer. If not, the dealer can sends it back to us.
Do you want to become a Kollies Parts dealer?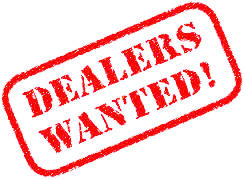 To be eligible to become a dealer of Kollies Parts, you must meet the following requirements:
You must have a physical store or webshop that can be verified.
Once you are approved as a dealer, you will receive a dealer login and password.


Dealer pricing:
Kollies Parts does not use multiple price levels. Kollies Parts Dealers all get the same dealer prices.


Shipping:
We have a warehouse in Rijen, Noord-Brabant, The Netherlands. We charge the actual shipping cost. Orders placed on working days (Monday / Friday) before 16:00 are usually shipped within the same day. All orders will be provided with a PDF invoice. We can provide "Dropshipping".


The recommended retail price:
The selling price (retail price) should be held as shown in the webshop.
Payment:
Kollies Parts Dealers can pay in the following way through the website: iDEAL, Billink, Credticard, PayPal, Banktranfer, MisterCash, Sofort and GiroPay.


Interested?:
Please contact to start the application process dealer.